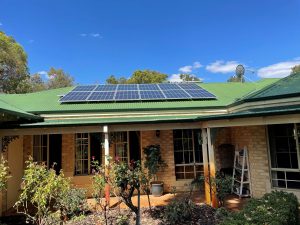 Are you considering getting solar panels in Perth but are not sure if they are worth it or not? Ultimately this is a decision that you need to make for yourself, but the good news is that for many Western Australian households, yes, it is indeed worth it! Below are some of the reasons why:
Climate
According to Bureau of Meteorology data, Perth boasts an average of 8.8 hours of sunshine each day, which equates to roughly 3,200 hours of sunshine each year and 138.7 clear days annually [1]. This makes us the sunniest capital in Australia! The great news is that the more sunlight that your solar panel receives, the more electricity it will produce.
Please be advised that the amount of electricity that your solar panel system will produce will depend on a number of factors including the size of your panels, your inverter capacity as well as the location and orientation of your solar panels (shadows from nearby trees, buildings, antennae, powerlines and chimneys can impact the output of your system).
Government Solar Incentives
In November last year, the Western Australian Government announced that more than 400,000 WA homes and businesses now have rooftop solar connected to the state's main grid, with that figure continuing to increase. For many homeowners, a significant factor in their decision to get solar in Perth is the solar incentives that they will benefit from.
The Federal Government provides a financial incentive for eligible individuals and small businesses for the installation of renewable energy systems through the Small-scale Renewable Energy Scheme.
Households with solar panels in Perth and the southwest region have State Government-owned corporation Synergy as their electricity provider, whilst households in regional areas of Western Australia have Horizon Power as their electricity provider.
To encourage the uptake of renewable energy technologies in the state, the Western Australian Government's Distributed Energy Buyback Scheme (DEBS) offers eligible customers a time of export payment for electricity they export to the grid from a renewable energy system.
The scheme applies to eligible households, educational institutions and not-for-profit organisations installing new solar panels or solar batteries or are upgrading their existing solar system (up to a five-kilowatt maximum).
Under the DEBS, the rates for Synergy customers as of 1 November 2021 are:
Peak-rates: Electricity exported between 3 pm to 9 pm earns 10 cents per kilowatt-hour (kWh);

Off-peak rates: Electricity exported between 9 pm and 3 pm earns 2.75 cents per kWh
Whilst DEBS rates for most Horizon Power customers as of 1 July 2021 are:
Peak-rates: Electricity exported between 3 pm to 9 pm earns 10 cents per kWh

Off-peak rates: Electricity exported between 9 pm and 3 pm earns 3 cents per kWh
Please be aware that DEBS rates are higher in Horizon Power areas as the cost to generate electricity in these areas are higher. More information on this can be found on Horizon Power's website.
Usually, involvement in these schemes is arranged by Clean Energy Council accredited solar installers, so please contact us if you would like more information on this!
Electricity Savings
With more Western Australians working from home and spending more time at home on the weekends due to the current COVID-19 situation, it is likely that many households have been hit with a high electricity bill in recent months.
Installing a solar panel system is a great way to slash your electricity bills. Solar panels convert sunlight into direct current (DC) electricity and a solar inverter converts this electricity into alternate current (AC) electricity which is suitable for household appliances and any excess electricity that you generate is fed back into the grid unless you have a solar battery to divert it to. Your energy provider will provide you with a credit for the power that you export, and this credit helps to offset your power bill – it's neat isn't it!
Reducing emissions
Installing solar panels is a great move for households who are looking to reduce their emissions. Solar panels generate electricity from the sun – a natural and renewable resource. This is unlike fossil fuels like coal and natural gas which release significant amounts of carbon emissions and air pollutants each year. Additionally, unlike coal, solar panels also do not require large amounts of water – one of our most precious resources – in order to generate electricity.
Boost the value of your home
Lastly, another great reason why many people are installing solar panels in Perth is to potentially increase the value of their home if they intend to sell it in the future.
Research conducted by a property site for real estate and an energy company in April 2015 [3] found that 85 per cent of the 1658 Australians surveyed believe that adding rooftop solar panels would add to a property's value.
Interestingly, three-quarters of renters responded that they would be willing to pay additional rent to live in a property with solar energy as well.
Still on the fence about solar? Contact Perth Solar Force today!
If you still have some questions or concerns about installing residential solar panels, then give the friendly and knowledgeable team at Perth Solar Force a call today! We are Western Australia's leading residential solar installation company and are currently conducting around 80+solar installs a week around Perth and regional WA. Our team have a no-pressure sales approach and would be more than happy to discuss your particular needs and energy objectives.
[1] Climate Statistics For Australian Locations, The Australian Government's Bureau of Meteorology, February 2022.
[2] Technical solution to allow more residential rooftop solar, Western Australian Government Media Statements, November 2021.
[3] '85 per cent of Aussies say solar panels boost property prices' by Holly Jones for realestate.com.au