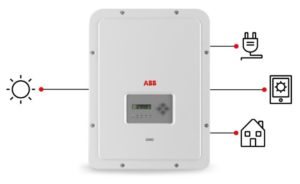 It's been a long time between drinks, but ABB's new single-phase solar inverter – the UNO-DM-PLUS – will be available in Australia from mid-July.
Available in six power ratings from 1.2 to 5.0 kW, ABB says the UNO-DM-PLUS string inverter provides higher performance and all DM-PLUS models are the same compact size (553 x 418 x 175 mm). The new units, all of which weigh 15kg, offer a maximum efficiency of between 94.8% and 97.4%; depending on model.
UNO-DM-PLUS features plug-and-play connectors; so the cover doesn't need to be removed. Combined with a commissioning wizard, these features lower installation time says the company, saving money.
An in-built user interface enables access to advanced inverter configuration settings, dynamic feed-in control and load manager; which can also be accessed through wireless communication.
Calling it "future-proof", ABB says the UNO-DM-PLUS also features remote Over The Air (OTA) firmware upgrade functionality.
The new design wraps ABB's quality and engineering into a lightweight and compact package, which thanks to intelligent technological choices means we have created an inverter solution which is optimized for domestic solar installations said ABB's Giovanni Frassineti earlier this month.
ABB's Aruba Microgrid Project
In other recent news from ABB, the company announced last week it will provide an advanced microgrid solution to the main power utility serving the Dutch Caribbean island of Aruba.
With a population of approximately 103,000 and a popular tourist destination, Aruba sources its electricity through a mix of thermal, wind and solar PV generation.
ABB's solution will enable WEB Aruba N.V. to integrate more renewable energy capacity, while maintaining reliability and efficiency of power supplies – and meeting increasing demand for electricity
"The embedded software, automation and control technologies will also facilitate 24 hour forecasts and enable a stronger, smarter and greener grid," said Massimo Danieli, head of ABB's Grid Automation business.
Aruba is looking to free itself from the clutches of fossil fuel based power generation entirely and has set an interim goal of sourcing half its annual average electricity requirements from renewables by 2020. Currently, nearly 40 percent of the island's electricity is sourced from clean power technologies.
Aruba's largest solar power installation is a 3.5MW facility at Reina Beatrix International Airport, which consists of 14.000 solar panels.
Last November, Tesla signed a Memorandum of Understanding with WEB to supply Aruba with energy storage systems.