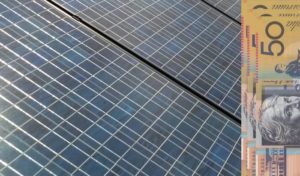 Other electricity retailers have announced solar feed in tariff increases since AGL's recent announcement – find out how much you could be getting for your solar power from July 2017.
Last week, AGL set the ball rolling by announcing it would be boosting feed in tariffs by up to 140%, stating the increases reflected rising wholesale electricity prices.
Here's how the situation looks across Australia from the beginning of next month. We'll update this post with information as it becomes available – Origin is expected to announce its new incentives in the next couple of days.
Solar Even More Financially Attractive
The changes will help absorb some of the brunt of increases to electricity costs from July; which affect both solar power system owners and those without. Between electricity price and FiT hikes, installing solar panels has become an even better investment. However, rising feed in tariffs don't improve the economics of solar battery storage; an issue SQ blogger Ronald will discuss in more detail soon.
Queensland
AGL : 10.6c (+77%)
Energy Australia: 11c (+83%)
Origin: TBA
Ergon Energy : 10.102c (+36%)
Diamond: currently 12c
New South Wales
AGL : 11.1c (+82%)
EnergyAustralia : 12.5c (+105%)
Origin: TBA
Diamond: currently 12c
On the 23rd of June, IPART announced its benchmark range for solar feed in tariffs in 2017-18 is 11.9c to 15c per kilowatt hour. It says the increase was mainly due to higher forecast wholesale electricity prices in 2017-18. The benchmark is a guideline, not mandatory.
ACT
No changes announced at this stage
Victoria
AGL: 11.3c (+126%)
Origin: TBA
Diamond: currently 12c
Tasmania
On June 23, Tasmania's Economic Regulator determined a solar feed in tariff rate of 8.929c per kilowatt hour for 2017/18 – an increase of 34% compared to 2016/17.
South Australia
AGL: 16.3c (+140%)
Energy Australia : 15c (+82%)
Origin: TBA
Diamond: currently 12c
Western Australia
Northern Territory
No change – but the NT's solar feed in tariff remains a the most generous in the country.