Solar power is a fast-growing industry in Australia. According to the Australian Government's Department of Industry, Science, Energy and Resources, Australia has the highest uptake of solar globally, with around 30 per cent of homes now having rooftop solar panels. As of 9 November 2021, over 3 million rooftop solar PV systems had been installed across the nation.
Are you considering installing solar panels on your residential or commercial property? It's important that you use a reputable solar company in Perth. Below are some qualities to keep a lookout for:
Does the company have sufficient industry experience?

 – A good solar panel company must have gathered a lot of experience in the Western Australian solar industry and must be familiar with and comply with all relevant standards and regulations.

Does the company provide detailed and professional quotations?

– A reputable solar panel company should provide you with a detailed quotation that includes the specifications of your solar panel system (including the brand of solar panels, the number and model of panels), the expected generation of your system and warranty conditions.

Is the company Clean Energy Council (CEC) Accredited?

– The CEC is the peak body for the clean energy industry in Australia. CEC Accredited installers are certified and trained to ensure that your solar panel system meets industry best practice standards and all relevant Australian Standards.

Do the company have many positive reviews on their Google Business Profile?

– This one speaks for itself!

Always read reviews of the Perth solar company left by previous customers to find out if they are indeed a credible company.

Do they provide high-quality products?

– Quality solar panel products from well-known solar brands will be safer, more efficient and should last much longer than cheap alternatives from dodgy companies.

Do they install their solar panels safely?

– You should only ever go with a solar panel company that takes the necessary precautions each and every time to reduce health and safety risks for its clients and staff.

And do they provide a high level of support once your solar panel system has been installed?

– A good solar panel company will always be happy to answer any questions or concerns that you have about your solar panel system once it has been installed. They should also provide a dedicated solar inspection and repairs service.
Reasons to Choose Perth Solar Force
Perth Solar Force is proud to be a leader in the Western Australian solar industry. We are locally owned and operated and currently employ more than 80 full-time workers – each one of which have been personally selected for their unique set of skills and experience.
Our team have successfully installed more than 10,000 solar panels systems (+200,000 solar panels) since our formation, and we are currently installing at a rate of over 250 solar systems each month.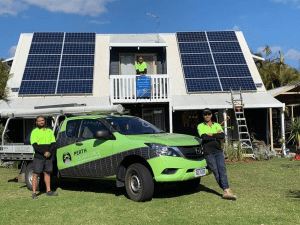 We are a CEC approved retailer, CEC associate member and CEC accredited installer. This means that our customers can rest assured that they are purchasing a quality product from a reputable company that guarantees the backing of their solar panel system for at least five years. Our solar installations adhere to strict Australian safety regulations, and we take pride in our high level of quality and service with each job.
We have a no-pressure sales approach and our company representatives always use a consultative approach to fully understand our client's needs and energy objectives.
We have heaps of positive reviews from real-life customers on SolarQuotes, Facebook and our Google Business Profile. Want to learn more about us or our process? Click here or give the friendly team at Perth Solar Force a call today!